Lumecca is the most powerful intense pulsed light (IPL) that treats skin discoloration from sun damage, birthmarks, freckles, acne scars, age spots or broken blood vessels. The IPL targets pigment using photothermolysis, which uses a specific wavelength of light and heat to correct the damaged tissue, without affecting surrounding healthy tissue. With less energy and heat, clients don't feel discomfort and are able to go about their day post treatment. Lumecca is safe on all skin types.
PRICE BASED ON CONSULTATION
Age spots (red/brown pigmentation)
Rosacea (redness)
Freckles
Sun damage
Vascular lesions (spider veins)
Broken capillaries
Improves skin irregularities
Eliminates large pores

Downtime
Redness in the treated area is an indication of a good treatment and should last 1-2 days. It is common to feel warm after treatment, so you may want to avoid physical activity.
Procedure
After a consultation with our medical aesthetician, we will discuss your problem areas and decide the best treatment plan. An ultrasonic gel is applied to the area during treatment to help the device glide across the skin surface. Protective eyewear is also given to shield any from any harmful light. During the treatment, you will see a bright flash of light from the device. You may feel a warm sensation and a slight snapping sensation – similar to an elastic band. There is no need to apply a local anesthetic.

Results
Lumecca's results are can be seen a few days post treatment but may take up to 2 weeks to see full results of you smooth and evened out complexion

Aftercare
It's not uncommon for the treated area to radiate heat given the use of the IPL. The treated area will also feel dry, so we recommend applying moisturizer up to four times/day for the first couple of days. Our medical aesthetician will devise a personalized aftercare plan based on your skin type and lifestyle.
Your Skin. Your Treatment.
No two faces or bodies are the same. Tell us your skin goals and we'll find the best treatment plan for you!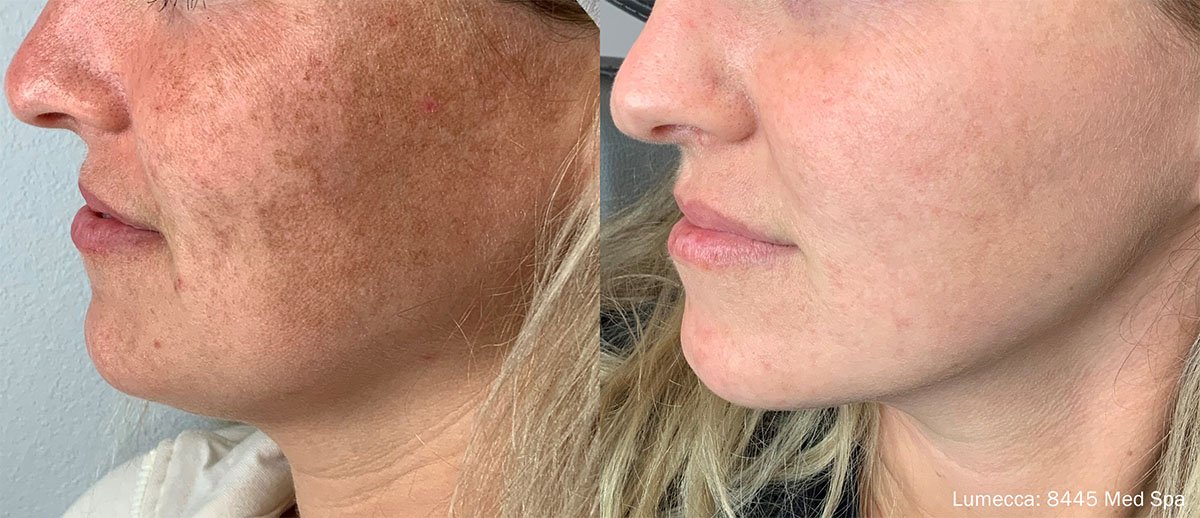 Correct damaged tissue with Intense Pulsed Light